Liftmaster Video Camera Garage Door Opener. Are you looking for the best- up to date and feature rich garage door opener? Do not skip reading about the newest Liftmaster collection. Next we will break down the benefits, features, and what's in the box so you can be sure you get what you need from your operator.
Liftmaster Video Camera Overview
Integrated video camera enables you to keep an eye on your prized possessions through a live feed or recorded event
Two way audio allows you to tell those teens "Don't even think about it"
Enables secure In-Garage Delivery with Key by Amazon so you can be care free and go about your day
Built-in Wi-Fi® allows for smartphone control with the myQ App, so you always know who's sneaking around your garage
Battery backup allows you to open/close your door even when the power is out
Features of the Liftmaster 85503
Video
Integrated Camera
Video camera can be manually tilted and rotated 360 degrees to see everything that happens in the garage.
HD-Quality Video
1080p, glare-resistant, night vision lens auto-adjusts to light levels in the garage to capture everything and anything that passes through the garage.
Live Streaming and Video Storage
View live-streaming video from your garage for free.
A myQ Video Storage Subscription allows you to record and save videos for up to 7 or 30 days. Tap into your video history to expand your knowledge and peace of mind.
2-Way Audio
Communicate in real time between your garage and your smartphone.
Safe and Secure Packages
Enables secure In-Garage Delivery for Amazon Prime packages.
Simple Setup
Eligible Prime members simply download the Key by Amazon App and link it to your myQ account. All you have to do is download the myQ app, link to your operator and smartphone and you can start controlling your garage door form anywhere in the world
Real-Time Updates
Monitor and control your deliveries from your smartphone. The app will send you notification when your door opens or closes. No more worries when you leave and aren't sure you close your garage door. All you have to do is check your app and will find out your door is properly shut.
Power
Battery Backup. When your whole neighbor looses power you will still be able to operate your garage door. As soon as the main line of power disconnects, the back battery will kick in. You don't have to do anything. It's all automized.
DC Motor
Enjoy extra peace and quiet with the long-lasting DC motor. No more waking up your neighbors when you come home or leave.
Smooth Start
Extend hardware life and reduce maintenance with smooth start/stop operation.
Safety and Security
Electronically Protect
Electronically protects against forced openings of the garage door.
Secure Code
Confidently know that every click sends a secure code to the garage door opener.
Safety Sensors
Protect people and vehicles with safety sensors that stop the door from closing on obstructions.
Bright Garage
Walk into a bright garage with motion-detection lighting. The motion sensor feature will turn on the light as soon as you enter your garage.
Liftmaster Video Camere Opener WARRANTY
Belt Warranty: Lifetime
Motor Warranty: LifeTime
Parts Warranty: 5 Years
What is included in Liftmaster 85503 Opener box
Liftmaster Backup Battery

Fast and Easy replacement.
Works on all LiftMaster integrated battery backup garage door openers.
Liftmaster Smart Control Panel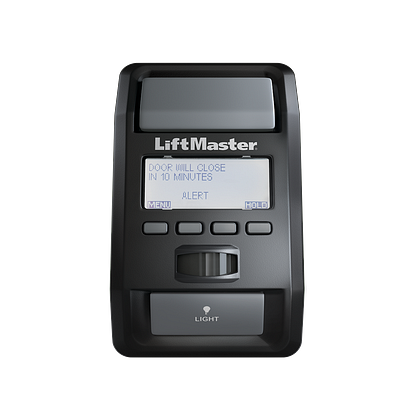 Take complete control of your garage with our Smart Control Panel®.
Its intuitive menu-driven panel lets you easily program remote controls, adjust settings, and even get system diagnostics.
Remote control 893MAX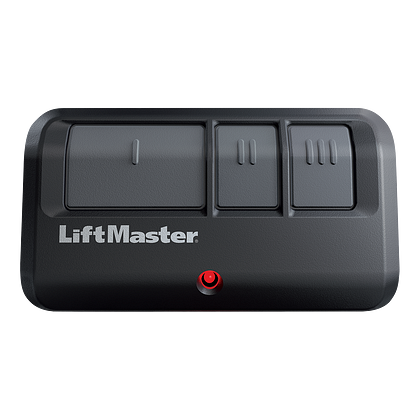 3-Button Visor Remote Control4.2 (126)Write a review
Operate up to 3 Garage Door Openers or myQ Light accessories.
Safeguards your home with Security+ 2.0®.
Compatible with all LiftMaster Garage Door Openers manufactured since January 1993.
Liftmaster 85503 Video Camera Reviews
★★★★★ 5 out of 5 stars
Joej
New York
Excellent Garage Door opener
Liftmaster and, Chamberlin did together build one of the best garage door I have seen, this is my replacement craftsman unit, excellent function, wifi connectivity interface, most especially you can view live camera feed, greatly recommended this product to all, well worth investment!
+ Pros:
battery backup,
Packaged Well,
quiet,
sturdy,
stylish,
reliable,
easy to install,
wifi capable
✔ Yes,
I recommend this product.
★★★★★ 5 out of 5 stars
Jason Garage
Livonia, MI
Age 35-44
Loyalty Less than 1 year
Excellent garage door opener and features
Excellent garage door opener and feature. I would recommend this garage door over to all my friends.
+ Pros:
battery backup,
quiet,
reliable,
wifi capable
✔ Yes,
I recommend this product.
Co Co
Mullins, SC
Age 45-54
Loyalty Less than 1 year
★★★★★ 4 out of 5 stars
Very Pleased
The guys were professional and knowledgeable in their service on installation day. They maintained social distancing procedures. Our system has worked nicely since being installed with no problems.
+ Pros:
quiet,
reliable,
wifi capable
✔ Yes,
I recommend this product.