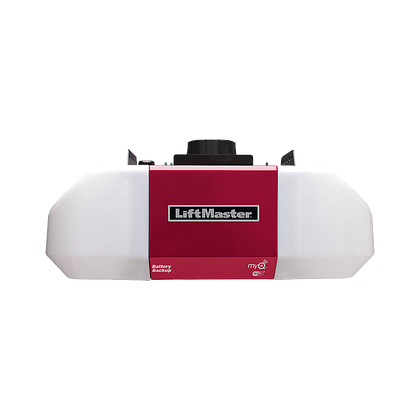 Interested in this Liftmaster 8550WLB garage door opener Chicago? This is a great belt drive opener that features quietness with a reliable belt drive, powerful and nice looking. This is one of the best Liftmaster garage door opener these days.
Features belt drive system and DC motor for quiet operation.
Built-in Wi-Fi® allows for smartphone control with the myQ® app.
Battery Backup allows you to open/close your door even when the power is out.
Automatic Garage Door Lock capable (lock not included).
Enables secure in-garage delivery for Amazon Prime packages.
Liftmaster 8550WLB Features
Smartphone Connectivity
Easily Connect
Easily connect to a home network with built-in Wi-Fi®. Download the myQ app and link to your smartphone in a few simple steps. You will be able to control your garage door from anywhere in the world
Syncs With
Syncs with popular smart devices and platforms.
Visit myQ.com for details.
Power
Virtually Silent
Keep living spaces virtually silent with the extra-strong belt drive system. Powerful yet quiet this opener will operate any residential garage door.
Battery Backup

Get in and out when the power's out with Battery Backup.
DC Motor
Enjoy extra peace and quiet with the long-lasting DC motor.
Smooth Start
Extend hardware life and reduce maintenance with smooth start/stop operation.
Safety and Security

Secure Code
Confidently know that every click sends a secure code to the garage door opener.
Safety Sensors
Protect people and vehicles with safety sensors that stop the door from closing on obstructions. When sensor light beam gets interrupted the safety mechanism will bring the door back up when closing.
Virtually Impenetrable
Make the garage virtually impenetrable by adding the Automatic Garage Door Lock.
Automatically Protect
Automatically protect against forced openings of the garage door.
Liftmaster 8550WLB WARRANTY

Accessory Warranty: 1 Year Battery and Remote Control
Belt Warranty: Lifetime
Motor Warranty: Lifetime
Parts Warranty: 5 Years
If you need Liftmaster opener repair in Chicago call the pros.
Liftmaster 8550WLB What is Included
Liftmaster Remote Control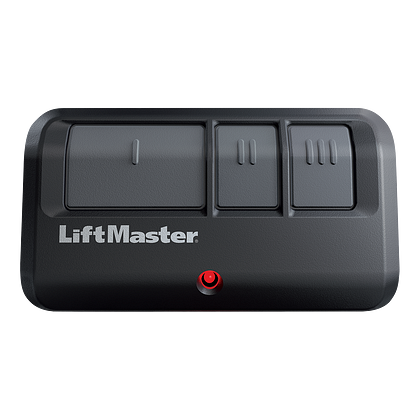 Operate up to 3 Garage Door Openers or myQ Light accessories. 
Safeguards your home with Security+ 2.0®.
Compatible with all LiftMaster Garage Door Openers manufactured since January 1993.
Backup Battery

Fast and Easy replacement.
Works on all LiftMaster integrated battery backup garage door openers.
Wall Control Panel

Take complete control of your garage with our Smart Control Panel®.
Its intuitive menu-driven panel lets you easily program remote controls, adjust settings, and even get system diagnostics.



Liftmaster 8550WLB Reviews
★★★★★ 5 out of 5 stars
Liftmaster 8550WLB is the BEST GARAGE DOOR OPENER WE'VE EVER OWNED! 
DBW86
Las Vegas, NV, USA
After extensive on search of reviews, companies, ratings and the openers themselves, we choose the Liftmaster 8550W Elite 3/4 hp openers. We replaced 3 Genie chain driven1/3 hp openers installed in 1995. They were noisy and neighbor's "clickers" began opening our doors. They were installed by Liftmaster Authorized Dealer; Kaiser Garage Doors of Las Vegas, NV. The installation was professional, swift, smooth and throughout the installer answered all my wife's and my own many questions. He also replaced a bad roller and adjusted the tensions of the springs and lubricated all the operating parts.
The new Liftmaster (same as Chamberlin but only sold via authorized dealers) 8550W Elite (3 of them) belt driven units are very attractive appearing and unbelievably quiet. I see the doors opening and closing but literally hear nearly nothing! The doors movement starts slowly, then speeds up and then slows down just before completing the opening or closing movement so there is no "slam" noise! The motion detection sensors pick up movement very easily and with 3 units lighting I no longer bother to turn on my garage interior lights. We had a wireless key pad installed so we could open a door from outside if we didn't have the clicker. Since we installed these units not once have our garage doors opened except on our command. The codes constantly roll, changing after every use so they are nearly impossible to copy and clone as my old ones were.
The inside the garage mounted operators have a button to open/close the doors, another button to turn the unit's lights on/off and a back lit screen that displays the inside temperature, time of day and the charge status of the back up battery.
I am a Liftmaster customer for life as I cannot find a single thing about these units to complain or even mention that is negative! I would highly recommend without any reservation what so ever the Liftmaster Elite 8550W 3/4 hp opener to anyone! You won't be disappointed by these units!
+ Pros:
silent,
smooth,
secure,
good looking units
– Cons:
there are none!!!
✔ Yes,
I recommend this product.
5 out of 5 stars.·
great features
scottpac
lexington,ky
Bought and installed yesterday….very pleased!…belt drive is very quiet, and love the MyQ app as well…..install time 2 hours…wife loves it as well,…so for what that is worth!
+ Pros:
battery backup,
Packaged Well,
quiet,
sturdy,
stylish,
reliable,
easy to install,
wifi capable
✔ Yes,
I recommend this product.